HAPPY HOLIDAYS EVERYONE!
We are all set watching the Fall season. Well, the winter 2018 anime season starts in January, so make your list and check it twice.
For holiday gift giving, you may want to watch all the online anime retailers for sales.  Here are a few that we know of.
There are some anime that are out this month. See if one is showing near you and plan a group outing!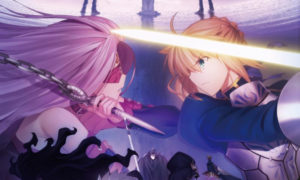 FATE / STAY NIGHT [HEAVEN'S FEEL]
In Select Theaters Nationwide
Nationwide release 11/18/2017
November 17 – December 10

Watch the highly anticipated anime movie, Fate/stay night [Heaven's Feel] THE MOVIE I. presage flower in select theaters nationwide!
Tickets and Info: http://www.fatestaynightusa.com/theater/
---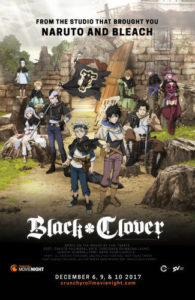 Crunchyroll Movie Night: Black Clover
Crunchyroll Movie Night is returning, this time with the hit new action series Black Clover! You can see the first four episodes of this magical show on the big screen!
DECEMBER 6, 9 & 10, 2017
TICKETS AND INFO AT:
http://www.crunchyrollmovienight.com
---
Some places have conventions all year around. Sometimes there are conventions in warmer places so that you can plan a nice vacation to ecapte the colder winter months. Don't get bummed by the winter blues! See if one is happening in your area or plan for a getaway at
upcomingcons.com or animecons.com
Please remember to Like and Follow our Facebook page for the latest news on anime events like anime in theaters!