Our directory is 94 clubs strong. Now is a good time to make sure your club info is correct and up to date! Search for your listing and see if it's OK!
The Spring 2018 anime season is just around the corner! Make a list of the shows you will be following this season!
Here are some anime in theaters this month. See if one is showing near you and plan a group outing!
BUNGO STRAY DOGS – DEAD APPLE –
May 2, 5, & 6 2018
Tickets and Info at
https://www.crunchyrollmovienight.com
Six years has passed since the bloodbath known as the Dragon's Head Rush conflict. Over 500 people with supernatural powers have been found dead — presumably by suicide. The Armed Detective Agency is tasked with the mission to capture Shibusawa Tatsuhiko, the mysterious special ability user thought to be involved. But when Osamu Dazai disappears, the "Demon" Fyodor begins showing his shadow. Those with supernatural powers, known as Special ability users, are threatened by an onslaught of unprecedentedly powerful enemies, and the city of Yokohama begins falling into a terrifying nightmare. Atsushi and Kyouka infiltrate Shibusawa's fortress, where they are met by Akutagawa, who delivers an unthinkable truth.
DIGIMON ADVENTURE tri.: Coexistence
IN THEATERS MAY 10
TICKETS AND INFO
https://www.fathomevents.com/events/digimon-adventure-tri-coexistence
Meicoomon once again begins to rampage when she sees her partner Meiko injured by a mysterious man. Meicoomon, who disappeared into the real world, is a distortion itself—in possession of too much power, and a key to destroying the world. The arrival of rampaging Meicoomon starts the countdown to the real world's collapse. A series of abnormal phenomena occur all over the place. The Digimon who appear through the distortions were waiting for this time to come…
The DigiDestined are cast out of the Digital World when it goes out of order, and even after returning to the real world, they're driven away by people on account of their accompanying partner Digimon. Meanwhile, a cruel fate is imminent for Kari, who has a more honest and sensitive spirit than anyone…The adventure continues.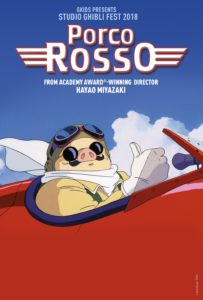 Studio Ghibli Fest 2018: Porco Rosso
May 20 & 23 Dubbed
May 21 Subtitled
Advance tickets now on sale at
https://www.fathomevents.com/series/studio-ghibli-fest