No Game No Life Zero
IN THEATERS OCT 5(subbed), OCT 8 (Dubbed)
Six thousand years before Sora and Shiro were even a blink in the history of Disboard, war consumed the land, tearing apart the heavens, destroying stars, and even threatening to wipe out the human race. Amid the chaos and destruction, a young man named Riku leads humanity toward the tomorrow his heart believed in. One day, in the ruins of an Elf city, he meets Shuvi, a female exiled "Ex-machina" android who asks him to teach her what it means to have a human heart. In select movie theatres nationwide, this two-day event also includes exclusive content featuring special footage of members of the cast and crew of No Game No Life Zero.
For theaters and showtimes check: fathomevents.com
Tokyo Ghoul Live Action Film.  
True to the original manga horror series, this thrilling live-action adaptation brings the story to life like never before. In select theaters October 16-22.
For theaters and showtimes check Funimationfilms.com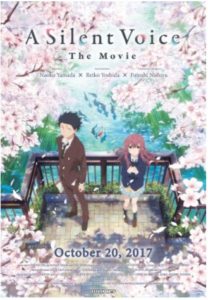 A Silent Voice: The Movie
In theaters starting October 20th!
A deaf elementary school girl, Shoko Nishimiya, upon transferring, meets a boy named Shoya Ishida in her new class. Shoya, who is not deaf, leads the class in bullying Shoko, because she is deaf. As the bullying continues, the class starts to bully Shoya for bullying Shoko. After graduating from elementary school, Shoko and Shoya do not speak to each other… until later, when Shoya, tormented over his past, decides he must see Shoko once more. Shoya wants to make amends for what he did in elementary school and be Shoko's friend.
Tickets and info at elevenarts.net
GKIDS PRESENTS STUDIO GHIBLI FEST 2017
Spirited Away
IN THEATERS OCT 29, OCT 30, NOV 1
Wandering through an abandoned carnival site, ten-year-old Chichiro is separated from her parents and stumbles into a spirit world where she is put to work. Here she encounters impossibly inventive characters and must find the inner strength to outsmart her captors and return to her family.
TICKETS AND INFO AT FATHOM EVENTS