DIRECTORY UPDATE
Renewal Emails were sent out over the past few weeks, and a lot of clubs didn't renew their listing. We lost a lot of clubs in the past month due to bad email addresses and non-renewals. We are down to 37 clubs, and 98 expired.
Listings do expire one year after they are posted, in an effort to keep the database accurate and updated. Please take a few moments to search for you club, and if you cant' find it, most likely it's expired. You will need to update your listing, and you can do that by filling out our update form. If you want to just resubmit your club, please do so using this form.
Please do either ASAP.
IN THEATERS THIS MONTH:
IN THEATERS DEC 6 – DEC 11
EVANGELION:3.0+1.01 Thrice Upon a Time
TICKETS: fathomevents.com/events/EVANGELION
From legendary director Hideaki Anno, EVANGELION:3.0+1.01 THRICE UPON A TIME is the fourth and final installment of the REBUILD OF EVANGELION films, bringing an epic conclusion to the story of Shinji and his fellow Eva pilots, with the stunning visuals and thought-provoking storytelling that has made EVANGELION a global pop culture phenomenon.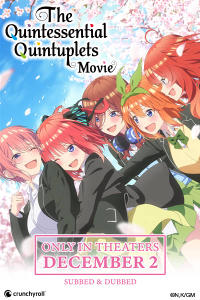 THE QUINTESSENTIAL QUINTUPLETS MOVIE (2022)
IN THEATERS Fri, Dec 2, 2022
Tickets: fandango.com