Our directory is 95 clubs strong. Now is a good time to make sure your club info is correct and up to date! Search for your listing and see if it's OK!
Oh, and don't forget about our FORUMS! We want to use them to network with other clubs!
The Spring 2018 anime season is well underway, and Summer is just around the corner! Make a list of the shows you will be following!
Here are some anime in theaters this month. See if one is showing near you and plan a group outing!
Fate/stay night Movie: Heaven's Feel – I. Presage Flower
IN THEATERS JUN 5, JUN 7
English Dub Premiere
Tickets and INFO at
https://www.fathomevents.com/events/fate-stay-night
HAIKARA-SAN: HERE COMES MISS MODERN
June 8, 2018
Tickets and INFO at: https://www.elevenarts.net/animedistrbution/haikara-san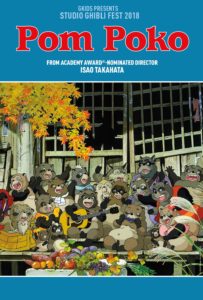 Studio Ghibli Fest 2018:Pom Poko
June 17 & 20 Dubbed
June 18 Subtitled
TICKETS and INFO at: https://www.fathomevents.com/series/studio-ghibli-fest